It's almost a cliché to say how much a woman's feet suffer many times from wearing high heels, no matter how fancy and elegant they may look like.
But what would you say if you could wear the same pair of shoes at work and all day long, as well as for going out or a party? Tanya Heath, originally from Canada, says this is possible with her creations: luxury multi-height shoes with removable heels.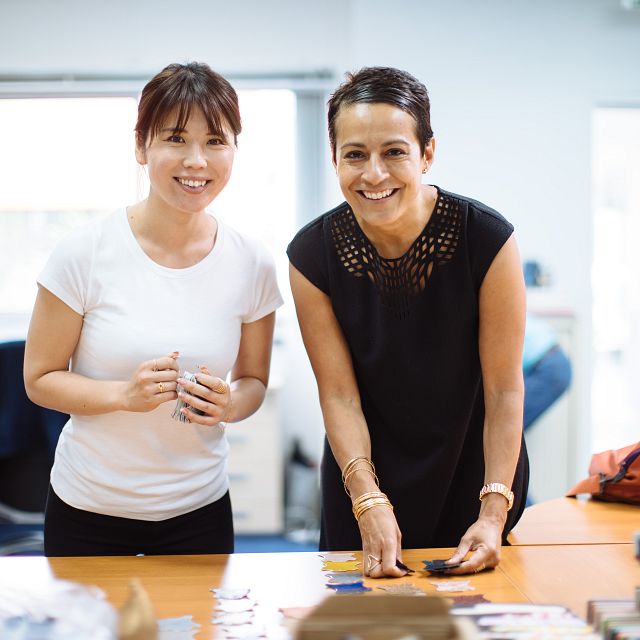 Tanya Heath on the right
After moving to Paris for her job, with no connection in the shoe industry, she kept thinking about creating more comfortable footwear. It took her almost 15 years to totally change the field, to set up a firm and actually starting to sell her first shoes in 2013.
"Before creating this brand I had stunning collection of high heels from established brands and I live in Paris so I am very aware of what a good shoe should be and how it should look and how it should feel," tells Tanya Heath.
"It is a complete pick and choose concept. First you buy the shoes, sandal, pump, low boot or boot and then you buy your heels. On average a women will buy 3 pairs of heels per shoe but she may come back for extra heels at a later date. Every shoe works with every heel and we have over 400 different heel references so our clients can instantly personalize their shoes and create footwear that exactly matches their lifestyle in a meaningful way," adds Tanya Heath.
While Anastasia, Margaret or Viola are a few of the shoe types, which have feminine names, they can match with Christophe, a 4.5 cm heel that is perfect for walking, Stéphane, a 6 cm kitten heel or François, a 8.5 cm classical stiletto.
"I won't necessarily add the sparkle to a shoe but I certainly will add it to a heel because the heel is the accessory that takes the shoe from one place to the other," considers Tanya Heath.
Tanya Heath Paris shoes are made of leather. However, recently they have launched a vegan line for those who refuse to wear animal based products.
Writer: Lorelei Mihala
Follow Lorelei @loreleimihala